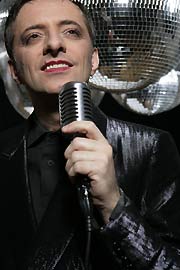 (Photo: Carsten Sander)
Welcome to the website of Mayo Velvo.
Born of German, French, Italian and even Lithuanian descendant, Mayo Velvo claims himself to be "The First Euro" on the block!
No wonder that his art, being a cabaret singer and entertainer, is a coat of many colours.
Raised in the 1960s as an only child amongst a varied record collection of his parents, Mayo got well acquainted to the likes of Barbra Streisand, Dean Martin and Frank Sinatra, but also a complete catalogue of musicals from "Kiss Me Kate" to "The Sound of Music". Especially the musical legacy of Cole Porter left , more or less unconsciously, a mark on the young boy. Many years later in 1991, commemorating the 100th birthday of Cole, Velvo presented his first "musical biography" of Mr Porter. Ever since, Mayo Velvo is now staging the third edition of this tribute under the name of "Let's do it, let's sing Cole Porter".
As a teenager in the early to mid 1970s, Velvo got deeply impressed by flamboyant stage acts such as David Bowie, Bryan Ferry, Steve Harley, Elton John or Freddie Mercury. The average schoolboy by day, by night Velvo more and more turned to staging his own little shows, by performing, (yet lip-synching!), his favourite songs. While not impersonating the original singer, Mayo turned the songs into "musicals en miniature" - lest we forget, there was no "MTV video culture" as we know it these days! Audiences liked the young Velvo with " ... a face, like you have Joel Grey and Liza Minelli rolled into one!", as one critic pointed out.
After having had a "serious drop-out" on Punk and New Wave in the late 1970s, Mayo literally went "back to (one of) his roots in the 1980s specialising more and more in French Chansons. Nowadays Velvo not only presents himself as a modern day Yves Montand type of a crooner. He also delivers hilarious performances of sometimes "sacred" songs such as France Gall's "Poupée de cire, poupée de son", which would place him right next to Marc Almond. "La Chansonnette"(i.e. "Little Song") is a programme filled with French songs from the 1920s right to the 1990s.
Not only is Mayo Velvo singing with his warm baritone timbre, he also gives the audience little, at times personal, stories inbetween songs, which renders a delicate intimacy to it all.
Last but not least there is "Ich liebe Dich, kann ich nicht sagen" ("I dare not say 'I love you'") an evening of songs trying to avoid those famous "three little words"! But how can one!? Mayo Velvo does it with an array of possible and impossible love songs, mostly sung in German, adding some English, French or Spanish songs along the way. Not only singing but also "acting" the songs is Velvo's real strength, and that's what the audience gets: "Never a dull moment"!
The Velvo-Team is completed by "old-chum",Thomas Möller, very versatile on piano, and the talented Gunther Tiedemannon cello (and piano).